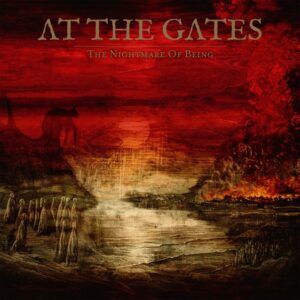 Swedish melodic death metal pioneers At The Gates released their new album 'The Nightmare of Being' yesterday, much to my excitement! I remember picking up Slaughter of the Soul back in '95, right after it's US release, and it was something I'd never experienced before. I quickly picked up the rest of the back catalog, and saw the evolution of the band over the years.
The latest installment, 'The Nightmare of Being' sees At The Gates pulling notes from all of their prior albums as a culmination of everything they've accomplished. From the get go, it harkens back to the 'Terminal Spirit Disease' era with the more melodic elements. Then proceeds to roll through the earlier, heavier era 'The Red in the Sky is Ours' stuff.
They added some new elements to their music this time, bringing full orchestration to parts, and also some saxophone. The latter of which really felt awkward and out of place to me, and I'd honestly rather listen to Rivers of Nihil if I wanted to hear sax accompanying a metal album 🤷‍♂️.
Musically, this is arguably the most solid At The Gates album, and I thoroughly enjoyed the entirety of it. Any and all fans of At The Gates will definitely enjoy the new album. Truth be told, I really hope this broad spectrum of their career encompassed in The Nightmare of Being, will attract even more followers and create more fans of the band.
Track Listing
Spectre of Extinction
The Paradox
The Nightmare of Being
Garden of Cyrus
Touched by the White Hands of Death
The Fall Into Time
Cult of Salvation
The Abstract Enthroned
Cosmic Pessimism
Eternal Winter of Reason
Run time – 45:41
Released July 2, 2021 on Century Media Records
At The Gates – Online
Website: http://www.atthegates.se/
Facebook: http://www.facebook.com/AtTheGatesOfficial
Twitter: http://www.twitter.com/AtthegatesGBG
Instagram: https://instagram.com/atthegates_official
YouTube: http://www.youtube.com/atthegatesofficial
Check out my coverage from their 2018 tour with Wolves in the Throne Room and Behemoth at the House of Blues in Boston MA.