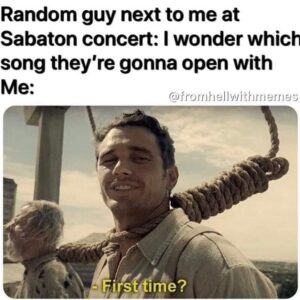 History has a way of teaching us. And if we've learned anything over the last 20+ years, it's that Sabaton doesn't mess around when it comes to their performances. Sure, they're notorious for having fun on the stage, and when you're one of the biggest bands in metal right now, why wouldn't you have fun every time you set foot on stage? As a staple, they launch off their night with the traditional Ghost Division.
The mood in the venue was electric, and was boiling over the top just in anticipation of Sabaton hitting the stage. Ghost Division is, quite literally, a call-to-arms for every fan to put 110% into their energy celebrating the music & experience that Sabaton brings to the stage. It's not hard to see why they've garnered all the attention that they have, They literally give every performance everything they have.
With an exceptional setlist that encompasses the last 20+ years of the bands history, there was no stone left unturned. There were a couple of songs that were expected, but surprisingly not played. Most surprising to me, was the omission of Resist and Bite, which has always been one of my favorites to see live.
As usual, there were the antics and fun had on stage by everyone. From Chris and Tommy sticking guitar picks to Joakim's head, to Joakim goofing around with Chris during Attack of the Dead Men, using "chemical warfare" to make it look like he had farted a huge cloud.
Christmas Truce was a spectacle to behold. Pär started off talking about how it felt when he saw Iron Maiden, and then had us all hold up our cellphones, much like the way that we used to hold up lighters at concerts during a ballad. With about 4500 people in attendance, I would venture to guess that over 3000 of us had our phones in the air.
Swedish Pagans, ah yes, the song that Joakim hates playing… A huge chunk of the crowd sat down and "rowed" through the song. Sadly, I wasn't at a vantage point to see it, but from the videos I've seen on YouTube of the Boston show, it looked so wild.
The unexpected twist…
Just before they played To Hell and Back, Joakim noticed that there was a young kid right up front in the audience, so he asked his name and his old he was. The kid replied "10", so Joakim said "you must have the coolest parents ever, so if it's ok with your parents, why don't you come up on stage and join us for the last song". So, the boy got helped up onto stage, where he was greeted by the entire band. Hannes gave him a pair of drumsticks, Tommy and Chris had been throwing guitar picks at one another the entire encore set, so he got to pick up a bunch of them off the stage. Then, Joakim took off his sunglasses and handed them over to him. He got to stand next to the drum set, and looked like the happiest kid on the planet.
Gallery
Setlist
Ghost Division
Stormtroopers
The Red Baron
Bismarck
The Attack of the Dead Men
Soldier of Heaven
Steel Commanders
Carolus Rex (English Version)
Gott mit uns (Swedish Version)
Night Witches
Dreadnought
Shiroyama
The Last Stand
Christmas Truce
Primo Victoria
Swedish Pagans
Highway to Hell (AC/DC cover, Tommy sang this one)
To Hell and Back
Sabaton Online
Sabaton – Official Website
Official Facebook
Official Instagram
Official Twitter
Official TikTok
Sabaton Official YouTube Channel
Sabaton History Channel (YouTube)
Sabaton On Spotify
Sabaton On Apple Music
Sabaton On Deezer
Sabaton On Amazon Music
Sabaton On Soundcloud
Sabaton At Nuclear Blast