Hellfest 2022 was announced, and boy is it an absolute Hell of a festival!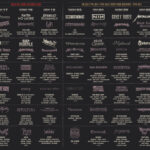 In celebration of the 15th anniversary of Hellfest, as well as the fact that it's been put off since the last one in 2019, it's a HUGE extended festival coming in 2022! Spanning 6 stages, 7 days, and 350 bands, there's going to be no shortage of incredible fun and music to be had. This might go down as the ultimate metal festival from here to eternity, given the sheer size of the event.
The full announcement trailer from Hellfest premiered on YouTube on June 17th:
Watch the official Hellfest website for more details in the coming months: https://www.hellfest.fr/en.html.