Blind Guardian: The God Machine Comes Alive!

Today is the day that the 'Secrets Of The American Gods' are finally revealed, the call of the 'Blood Of The Elves' will be answered and a mysterious creature finally takes its first steps: BLIND GUARDIAN's latest epos The God Machine comes to life.
To celebrate this new milestone in the band's already impressive career, BLIND GUARDIAN present a video for their track "Architects Of Doom". The latest chapter of The God Machine is a truly hypnotizing experience that can be watched here: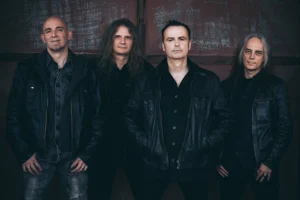 Singer Hansi Kürsch states: "Happy Release Day! Finally, finally, the day has come. Good things come to those who wait… I can not imagine ever longing that intensely for a release date. You are hopefully already holding that masterpiece in your hands, assuring yourself that we didn't exaggerate with all our praise beforehand. No fillers, just killers! The God Machine is a wholesome BLIND GUARDIAN album that will sweeten your coming months, even years. It's served, bon appétit!
 The God Machine features classic speed metal anthems, epic bangers and 'Architects Of Doom'! This song is an epic wrecking ball at its finest. In my opinion, this is the best and most outstanding track of the whole record. Reinvention or a return to ancient virtues, that's the question."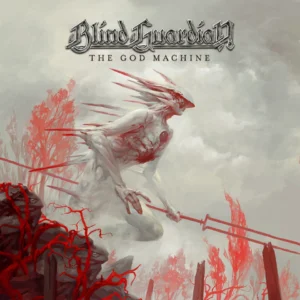 The God Machine marks another pinnacle in BLIND GUARDIAN's impressive discography by not attempting to pretend it is still the nineties yet instead successfully relying on the muscle memory of this period. It is a gripping, addictive, and brilliantly arranged album in the tradition of records with which BLIND GUARDIAN reached for the stars in the 90s; yet, by no means, is it a throwback. The God Machine represents the heart and soul of BLIND GUARDIAN's timeless metal in the here and now, unifying the bards' past, present, and future secrets in one consistent, well-thought-out masterpiece.
Order the album here: http://nblast.de/BG-TheGodMachine
BLIND GUARDIAN live:
02.09. DE Saarbrücken – Garage
03.09. DE Memmingen – Kaminwerk
04.09. CH Pratteln – Z7
05.09. DE Frankfurt am Main – Batschkapp
06.09. DE Stuttgart – KA
08.09. DE München – Backstage
09.09. DE Dresden – Alter Schlachthof
10.09. DE Neuruppin – Kulturhaus
11.09. DE Berlin – Huxleys Neue Welt
13.09. DE Oberhausen – Turbinenhalle
14.09. DE Köln – E-Werk
16.09. DE Osnabrück – Hyde Park
17.09. DE Osnabrück – Hyde Park
10.-17.10. ES Barca Trencada – Full Metal Holiday @ Iberostar Club Cala Barca
12.10. NL Sittard – Poppodium Volt
13.10. DE Hamburg – edel-optics.de-Arena
About BLIND GUARDIAN
In 1992, BLIND GUARDIAN released Somewhere Far Beyond, a legendary milestone of German speed metal. Three decades later, their latest offering, The God Machine, shows how to awaken the fury of youth to magical new life. As if they had paid a long overdue visit to the numerous highlights of their career, BLIND GUARDIAN appears to be in touch with the ghosts of their own past more than ever. "We've picked up a lot from our own history and built a new era upon this foundation," vocalist Hansi Kürsch explains. This new era begins right now. Seven years after Beyond The Red Mirror and almost three after the orchestral opus, Blind Guardian Twilight Orchestra: Legacy of the Dark Lands, Hansi Kürsch (vocals), André Olbrich (lead guitar, acoustic guitar, rhythm guitar), Marcus Siepen (rhythm guitar and acoustic guitar) and Frederik Ehmke (drums) invite you to their personal twilight of the gods."After 'Beyond The Red Mirror' and 'Legacy Of The DarkLands',  we knew we couldn't push the orchestral side of BlindGuardian any further," Kürsch says. The new directive while creating The God Machine was fairly straightforward but ever so welcome: "Less orchestration, more punch." In 2022, the opulent arrangements and powerful choirs still exist; yet they are used in a much more selective, focussed, and resonant manner.
This link is overtly present in the stunning, apocalyptic cover art by American fantasy icon Peter Mohrbacher, which teases a panopticon of fantastic tales and rather bleak prospects. "You have to look with a magnifying glass to find some hope on the album. But it's there," smiles Hansi Kürsch. "My lyrics have several levels. Some of them even I can only explore much later." Perhaps The God Machine is his most personal album since Somewhere Far Beyond.
"Blood Of The Elves" Music Video
"Violent Shadows" Music Video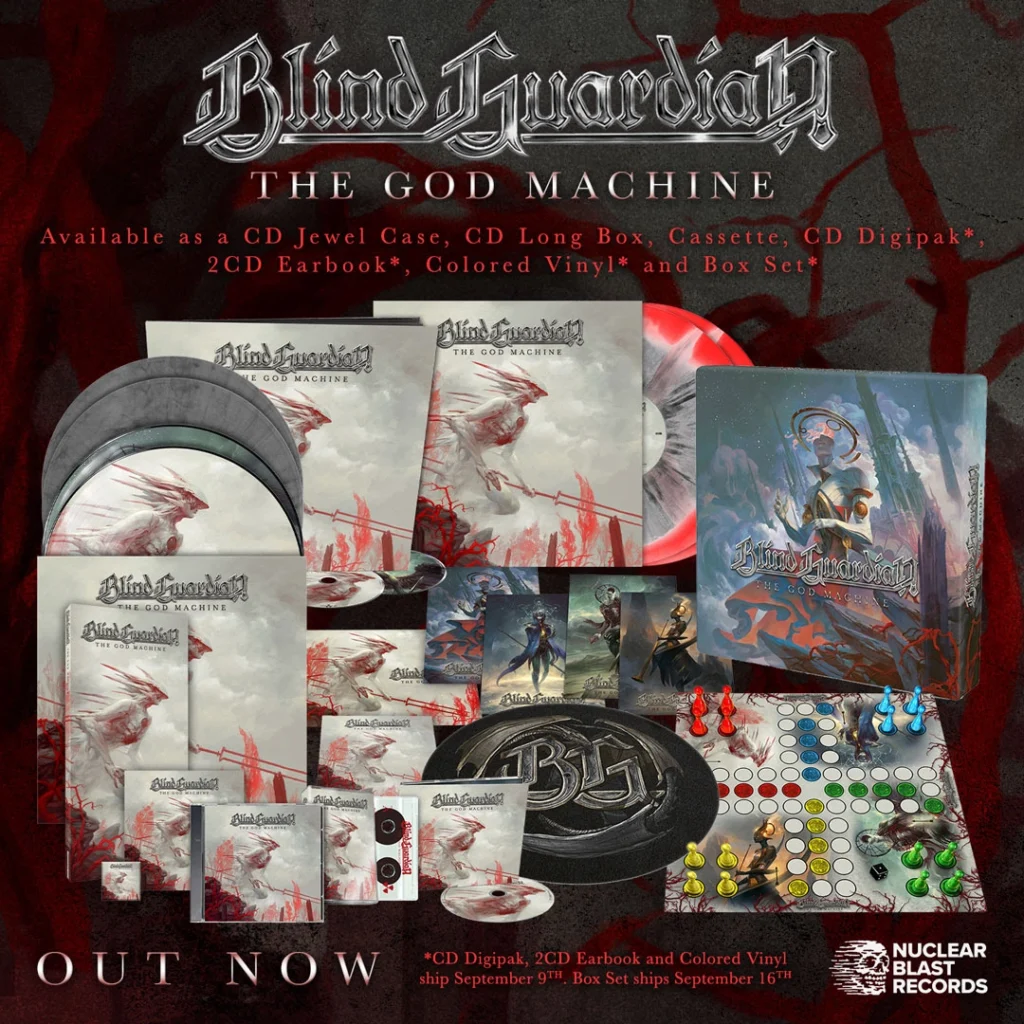 Order your copy of The God Machine, here: http://nblast.de/BG-TheGodMachine