Kreator: Release Live Clip For "Betrayer" (Feat. Dani Filth) Limited 2LP: Bloodstock 2021 Out Today!

Following the release of their highly successful and critically acclaimed album Hate Über Alles, metal titans KREATOR are proud to share a new live video of their 1989 classic "Betrayer", which was recorded at Bloodstock Festival 2021 and features none other than Dani Filth (CRADLE OF FILTH) on guest vocals. The song is featured on the limited 2LP Live At Bloodstock 2021, a monumental live recording of KREATOR's breathtaking headline performance at one of the UK's most renowned metal festivals, which is being released today! The vinyl run is limited to 2.000 units worldwide, split into 4 colors. Be quick and grab one of the last few remaining copies before they're gone for good!
WATCH THE LIVE VIDEO FOR 'BETRAYER':
BUY "LIVE AT BLOODSTOCK 2021": http://nblast.de/Kreator-Bloodstock
BUY OR LISTEN TO THE NEW STUDIO ALBUM "HATE ÜBER ALLES":
https://kreator.bfan.link/hate-uber-alles
"LIVE AT BLOODSTOCK 2021" TRACK LIST:
Side A
01. The Patriarch (Live at Bloodstock 2021)
02. Violent Revolution (Live at Bloodstock 2021)
03. Extreme Aggression (Live at Bloodstock 2021)
04. Phobia (Live at Bloodstock 2021)
Side B
05. Satan Is Real (Live at Bloodstock 2021)
06. Hordes Of Chaos (Live at Bloodstock 2021)
07. Hail To The Hordes (Live at Bloodstock 2021)
08. 666 World Divided (Live at Bloodstock 2021)
Side C
09. Awakening Of The Gods (Live at Bloodstock 2021)
10. Enemy Of God (Live at Bloodstock 2021)
11. Mars Mantra (Live at Bloodstock 2021)
12. Phantom Antichrist (Live at Bloodstock 2021)
13. Fallen Brother (Live at Bloodstock 2021)
Side D
14. Flag Of Hate (Live at Bloodstock 2021)
15. Betrayer (Live at Bloodstock 2021)
16. Pleasure To Kill (Live at Bloodstock 2021)
17. Apocalypticon (Live at Bloodstock 2021)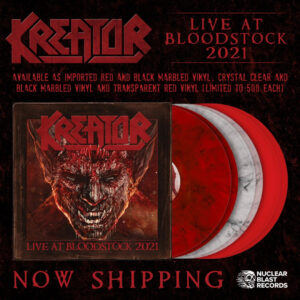 ABOUT KREATOR
Decades into their game-changing career, German metal legends KREATOR find themselves more successful and influential than ever. They've stuck to their guns, weathered the trends, and outlasted their peers – never once wavering from the ferocious noise that excited them as teens. If anything, that thirst for sonic warfare is just as strong, if not stronger, today. Where others have suffered from creative malnourishment and artistic uncertainty, something which even metal's biggest and best are prone to, Kreator has always charged full steam ahead – thanks to the red-eyed conviction and fearless determination of founding singer and guitarist Miland 'Mille' Petrozza. On 1985 debut Endless Pain, the Essen innovators created the template for extreme noise to come, fusing elements of thrash and black metal in ways that had never been heard before. Their sophomore album of the following year, Pleasure To Kill, became one of the landmark albums of 1986 – making metal history alongside key releases from METALLICA, SLAYER, and MEGADETH. And onwards they marched, bringing hellish anthems to the masses in every album that followed, with a track record few could ever rival.
The last decade has been a particularly exciting time for the group, with 2012's Phantom Antichrist proving how they could embrace modern production techniques and move with the times without forsaking the underground spirit and defiance which made them a household name in the first place. Its successor, 2017's Gods Of Violence, saw them topping the German charts for the very first time in their career, a feat virtually unheard of for a band of such thunderous intensity.
They returned this year with the fifteenth opus Hate Über Alles – which marked their first studio album with Frédéric Leclercq (ex-DRAGONFORCE, SINSAENUM) on bass, joining Mille, guitarist Sami Yli-Sirniö and drummer Jürgen 'Ventor' Reil – the metal titans are once again channeling an unholy heaviness strong enough to tilt the earth off-axis.
KREATOR Live 2022
FESTIVALS
19th Aug – France – MOTOCULTOR FESTIVAL
20th Aug – Netherlands – DYNAMO METAL FEST
23rd Sep – Mexico – MEXICO METAL FEST
State Of Unrest Tour 2022
KREATOR | LAMB OF GOD
with guests: Thy Art is Murder & Gatecreeper
18th Nov – Denmark – COPENHAGEN, Forum Black Box
19th Nov – Sweden – STOCKHOLM, Fryshuset Arenan
21st Nov – Finland – OULU, Teatria
22nd Nov – Finland – HELSINKI, Ice Hall Black Box
24th Nov – Poland – WARSAW, Stodola
26th Nov – Germany – MUNICH, Zenith
27th Nov – Germany – BERLIN, Columbiahalle
29th Nov – Netherlands – TILBURG, 013
30th Nov – Belgium – BRUSSELS, AB
02nd Dec – Germany – LUDWIGSBURG, MHP Arena
03rd Dec – Germany – ESSEN, Grugahalle
04th Dec – Germany – SAARBRÜCKEN, Saarlandhalle
06th Dec – Spain – MADRID, Riviera
07th Dec – Spain – BARCELONA, Razzmatazz
09th Dec – Germany – WIESBADEN, Schlachthof
10th Dec – Germany – HAMBURG, Edel Optics Arena
11th Dec – Germany – LEIPZIG, Haus Auensee
13th Dec – UK – LONDON, O2 Academy Brixton
14th Dec – UK – GLASGOW, O2 Academy
15th Dec – UK – BIRMINGHAM, O2 Academy
16th Dec – UK – BRISTOL, O2 Academy
18th Dec – UK – MANCHESTER, Academy
20th Dec – France – PARIS, L'Olympia
21st Dec – Switzerland – ZURICH, Samsung Hall
TICKETS: https://www.stateofunresttour.com/
Official Website: https://www.kreator-terrorzone.de/