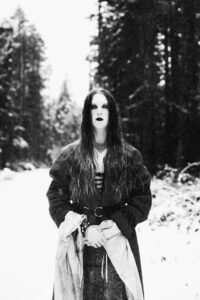 Black metal solo artist HULDER will release her The Eternal Fanfare mini-LP via 20 Buck Spin this July, today unveiling the record's cover art, track listing, and first single.
With the release of her Godslastering: Hymns Of A Forlorn Peasantry, HULDER made it known that the pure traditional black metal of earlier releases could be classical, rich in detail and creatively novel once again. A triumphant debut that indicated much more to come.
On the new MLP The Eternal Fanfare, HULDER expands the scope laid out on the debut, taking the production value to new places with more low-end depth and forceful resonance. The songwriting capability continues to sharpen into a dense confluence of her disparate influences such as on the cinematically expansive "Burden Of Flesh And Bone" and "Sylvan Awakening" to the cold stormblast ferocity of the title track. Opener "Curse From Beyond" is a celestial atmospheric piece akin to Dead Can Dance at their most mysteriously plaintive while the pensive lament of closer "A Perilous Journey" concludes The Eternal Fanfare with an aura of melancholic finality.
The Eternal Fanfare presents a stark interlude between the Godslastering… album and the forthcoming second full length. Yet on its own, a powerful statement of haunting new horizons and evolving mastery, ascendant, and bottomless at once.
The Eternal Fanfare will be released on CD and digitally July 1st with the vinyl edition to follow on July 29th. Preorders will be available in the coming weeks. In the meantime, stream "Sylvan Awakening" via YouTube HERE or Bandcamp HERE.
The Eternal Fanfare MLP Track Listing:
Curse From Beyond
Burden Of Flesh And Bone
Sylvan Awakening
The Eternal Fanfare
A Perilous Journey
In conjunction with the release of The Eternal Fanfare, HULDER will return to the road on a US tour with labelmates Skeleton. The Awakening Of Lithan Divinity Tour begins June 25th in Englewood, Colorado and runs through August 5th in Portland, Oregon. The tour includes a special performance at 20 Buck Spin's label showcase in Los Angeles, California July 29th. Additional support will be provided by Devil Master on select shows. See all confirmed dates below.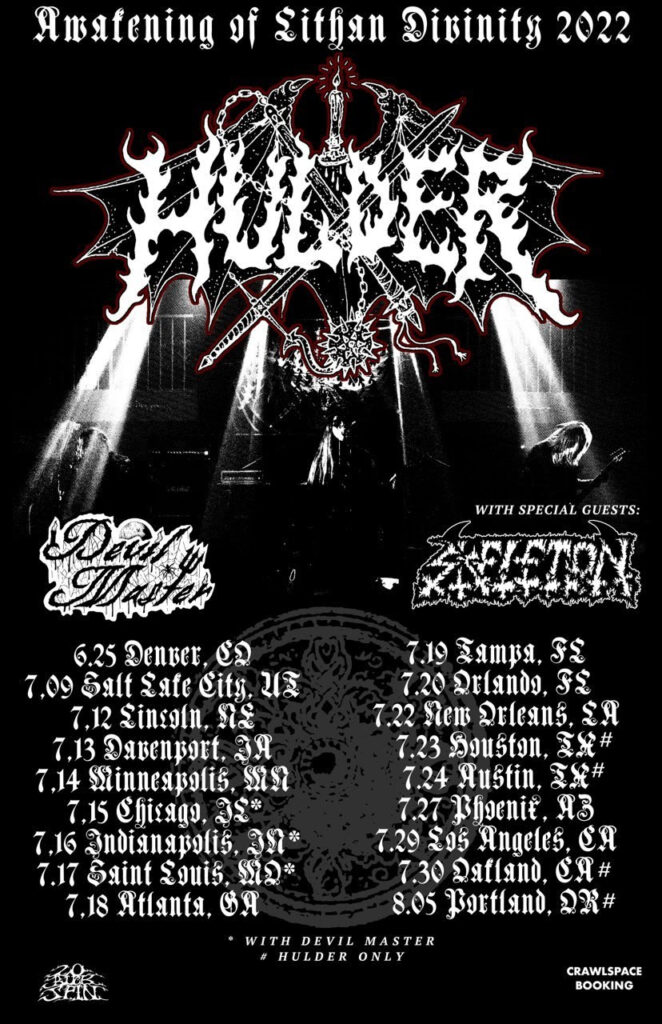 HULDER:
6/25/2022 Trve Brewing – Englewood, CO w/ Vastum, Khemmis, Panopticon, Dreadnought
w/ Skeleton:
7/09/2022 Aces High Saloon – Salt Lake City, UT
7/12/2022 1867 Bar – Lincoln, NE
7/13/2022 Raccoon Motel – Davenport, IA
7/14/2022 First Avenue – Minneapolis, MN
7/15/2022 Cobra Lounge – Chicago, IL w/ Devil Master
7/16/2022 Black Circle Brewing – Indianapolis, IN w/ Devil Master
7/17/2022 The Ready Room – Louis, MO w/ Devil Master
7/18/2022 Boggs Social – Atlanta, GA
7/19/2022 Will's Pub – Orlando, FL
7/20/2022 The Brass Mug – Tampa, FL #
7/22/2022 The Goat – New Orleans, LA
7/23/2022 White Oak Music Hall – Houston, TX #
7/24/2022 The Lost Well – Austin, TX #
7/27/2022 Nile Theater – Mesa, AZ
7/29/2022 20 Buck Spin Label Showcase @ First Street Pool Billiards – Los Angeles, LA
7/30/2022 Golden Bull – Oakland, CA #
8/05/2022 Dante's – Portland, OR #
# HULDER Only
HULDER Online:
http://www.hulder-official.com
http://www.facebook.com/HulderUS
http://www.instagram.com/hulder_official
http://www.instagram.com/20buckspinlabel
http://www.facebook.com/20buckspin