UFOMAMMUT Posts Official Visuals Version Of Ninth LP, Fenice
Italian psychedelic alchemists UFOMAMMUT present an Official Visuals Version of their ninth LP, Fenice, out now on Neurot Recordings.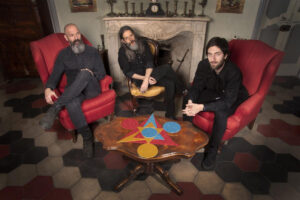 For more than two decades, UFOMAMMUT has combined the heaviness and majesty of dynamic riff worship with a nuanced understanding of psychedelic tradition and history in music, creating a cosmic, futuristic, and technicolor sound destined for absolute immersion. Fenice, "phoenix" in Italian, represents endless rebirth and the ability to start again after everything seems doomed. The album is the first recording with new drummer Levre joining Poia and Urlo, marking a new chapter in the band's history and unveiling a more intimate, free sound for the group.
While the band is renowned for their psychedelic travels into the far reaches of the cosmos, Fenice is a much more introspective listening experience. The album was conceived as a single concept track, divided in six facets of this inward-facing focus. Sonic experimentations abound in the exploration of this central theme; synths and experimental vocal effects are featured more prominently than ever before as the band push themselves ever further into the uncharted territory of their very identity.
Each oscillation of this extraordinary album feels inevitable. The members of UFOMAMMUT are, after all, masters of their craft, and when it comes to creating enveloping sonic journeys into the unknown, it's their uninhibited sense of exploration that breaches new sonic ground. Fenice is the sound of a band whose very essence has been rejuvenated and are welcoming the chance to create music in the way they know best; by unfolding carefully and attentively, by melding those extreme dynamics which render Fenice as a living and breathing creature, and by writing gargantuan riffs that herald their very rebirth.
The new Official Visuals Version of the album sees all six movements of Fenice fitted with mind-melting intergalactic-meets-otherworldly imagery which UFOMAMMUT is known for incorporating into their live performances.
Watch the six movements of UFOMAMMUT's Fenice Official Visuals Version via the band's YouTube channel now at THIS LOCATION.
Apple Music has also issued a track-by-track breakdown of Fenice in the members of UFOMAMMUT's own words where the album is streaming HERE.
Fenice is now available on LP, CD, and digital formats via Neurot Recordings, with a limited LP version of 666 copies on Supernatural Cat. Place orders at Neurot HERE and Supernatural Cat HERE. Also see the videos for "Psychostasia" HERE and "Pyramind" HERE.
UFOMAMMUT has just launched a ten-day tour in support of Fenice, with a long list of additional tour and festival dates also booked throughout the months ahead, including Dudefest, Dunk!festival, Desertfest, 17 Years Sound Of Liberation Festival, Desert Fox Festival, Hellfest, Frantic Festival, and more. The band writes, "We're on the road again, with a new lineup and a new album. We couldn't be more excited! See you all on the road!" See all confirmed shows and stay updated at the band's tour page HERE.
"The album shuttles from spacey to grinding to mind-expanding with an underlying heaviness. Like the cover art, it's dark and saturated, but highlighted by an illuminating brightness." – Decibel Magazine

"Fenice twists and turns but never loses momentum or focus, and its relatively stripped-down atmospheres suggest that UFOMAMMUT have burned off their music's impurities (well, most of them) while preserving the white-hot essence… each song can more than stand on its own, but when you're offered a journey as heady as this one, you want to make it last as long as possible." – Chicago Reader

"…it's heavy and sludgy and really leans into trippy psychedelia, resulting in something that the metalheads and the psych-rock kids can all agree on." – BrooklynVegan

"…the 38 minutes of which both bear signature hallmarks of who the band have always been but hold an unmistakably shifted dynamic, finding a different path to walk than they've ever had before. Maybe that's just what UFOMAMMUT needed. Judging by how alive Fenice sounds on a creative level…" – The Obelisk
UFOMAMMUT Online
https://www.facebook.com/ufomammutband
https://twitter.com/ufomammutmafia
https://ufomammut.bandcamp.com
https://www.instagram.com/ufomammut
https://www.supernaturalcat.com
https://www.facebook.com/Supernaturalcat666
https://www.instagram.com/SupernaturalCat_recs
https://www.neurotrecordings.com
https://www.facebook.com/neurotrecordings
https://twitter.com/OfficialNeurot