BODYROT: Carbonized Records Unleashes Limited Cassette Edition Of Fleshworks EP
Carbonized Records is pleased to unveil a limited cassette edition of Fleshworks, the debut EP from Canadian crust-influenced grindcore merchants, BODYROT.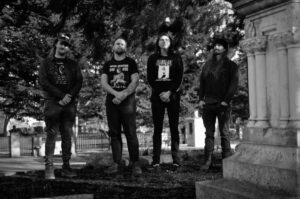 BODYROT was formed in Victoria, British Columbia by Con Artist members Ben Sloat and Jake Williams at the height of the Covid-19 pandemic in early 2021. After spending countless nights together spinning classic grindcore and powerviolence records and inspired by the sonic relentlessness of Los Angeles brutalizers Excruciating Terror, the pair decided to pen their own brand of unrepentantly vicious, heavy, and downright mean sounding grindcore. Soon thereafter, vocalist Jordan Fraser and bassist Sam Houston, of British Columbia bands Sickener and Mediated Form respectively, were recruited to complete the lineup.
Together, they digitally released their demo EP Fleshwork in February 2022. Hailed Decibel Magazine of the release, "BODYROT really remind of that wave of bands that came out of Northern California in the mid-2010s like Recalcitrant and Your Enemy — bands that sounded like they just drenched every instrument in crusty sewage from Oakland potholes (pre-gentrification) and then did their best Excruciating Terror impression… Another key component — they always absolutely bring it in terms of the death growls. I mean, just listen to how they really propel along 'To The Bog' in only the most nightmarish ways imaginable. Sounds like they went dumpster diving and drank every half-empty Gatorade they could find."
BODYROT has since teamed up with Carbonized Records in North America and Grindfather Productions in the UK to unleash a limited run of cassettes. Fleshworks was recorded and mixed by Cody Baresich at Circle A Studios in Victoria, British Columbia and mastered by Greg Wilkinson at Earhammer Studios in Oakland, California.
Order your copy of Fleshworks on cassette (in green or silver) at the Carbonized webstore HERE or Bandcamp HERE where the EP can be streamed in full.
BODYROTis carefully working on material for a full-length LP as well as a grindcore/powerviolence compilation, and is beginning to pick up more momentum with regional shows as well as a potential West Coast tour in the near future. Stay alert.
Fleshworks Track Listing:
Body…Reclaimed
To The Bog
Obsidian Blade
Comeuppance
BODYROT:
Jordan Fraser – vocals
Ben Sloat – guitar, vocals
Sam Houston – bass
Jake Williams – drums
BODYROT Online:
http://www.facebook.com/Bodyrot
http://www.instagram.com/bodyrotgrindcore
http://bodyrottt.bandcamp.com/releases
http://www.carbonizedrecords.com
http://www.facebook.com/Carbonized-Records
http://www.twitter.com/Carbon_Forms
http://www.instagram.com/carbonizedrecords
http://www.carbonizedrecords.bandcamp.com