RIVERS OF NIHIL Announce US Headlining Tour
RIVERS OF NIHIL will return to the road for a Spring headlining tour with support from Fallujah, Alluvial, and Warforged! The US leg of the Terrestria World Tour begins May 6th in Brooklyn, New York and runs through June 5th in Pittsburgh, Pennsylvania. The journey includes a special show supporting Hypocrisy in Austin, Texas as well as appearances by The Zenith Passage and Burial In The Sky on select dates. Tickets are on sale now! See all confirmed dates below.
RIVERS OF NIHIL w/ Fallujah, Alluvial, Warforged:
5/06/2022 Market Hotel – Brooklyn, NY
5/07/2022 Jewel – Manchester, NH
5/08/2022 Underground Arts – Philadelphia, PA
5/10/2022 Metro Gallery – Baltimore, MD
5/11/2022 Blind Tiger – Greensboro, NC
5/12/2022 The Masquerade (Hell) – Atlanta, GA
5/13/2022 The End – Nashville, TN
5/14/2022 The Haven – Orlando, FL
5/15/2022 The Orpheum – Tampa, FL
5/17/2022 Southport Hall – New Orleans, LA
5/18/2022 Scout Bar – Houston, TX
5/19/2022 Amplified – Dallas, TX
5/20/2022 Come And Take It Live – Austin, TX w/ Hypocrisy
5/21/2022 Rockhouse Bar – El Paso, TX
5/22/2022 Nile Theater – Phoenix, AZ
5/24/2022 Brick By Brick – San Diego, CA w/ The Zenith Passage
5/25/2022 1720 – Los Angeles, CA w/ The Zenith Passage
5/26/2022 Full Circle Brewery – Fresno, CA w/ The Zenith Passage
5/27/2022 Cornerstone – Berkeley, CA w/ The Zenith Passage
5/28/2022 Star Theater – Portland, OR
5/29/2022 El Corazon – Seattle, WA
5/31/2022 Metro Music Hall – Salt Lake City, UT
6/01/2022 Bluebird – Denver, CO w/ Burial In The Sky
6/02/2022 BLVD – Kansas City. MO w/ Burial In The Sky
6/03/2022 Reggies – Chicago, IL w/ Burial In The Sky
6/04/2022 Sanctuary – Detroit, MI w/ Burial In The Sky
6/05/2022 Crafthouse – Pittsburgh, PA w/ Burial In The Sky
RIVERS OF NIHIL will be touring in support of their newest full-length, The Work, released last Fall on Metal Blade Records. RIVERS OF NIHIL has never fit neatly into a box, but with 2018's Where Owls Know My Name, they transcended all labels applied to them. Returning in 2021 with The Work, they've forged further into new territory, delivering an album that's as cerebral as it is visceral, and that covers a staggering sonic range, definitively placing them in a category of their own. Inarguably a dense, heavy collection, The Work is far too dynamic to be considered a solely metal record and there is a genuine warmth that shows through, particularly tracks like "Wait" and the gorgeous "Maybe One Day." Additionally, the band has incorporated far more clean vocals alongside the screaming that tears through many of the record's heavier tracks. Courtesy of their friend Zach Strouse, saxophone once again adds extra layers of atmosphere to the collection, utilizing baritone, soprano, and alto saxes to great effect.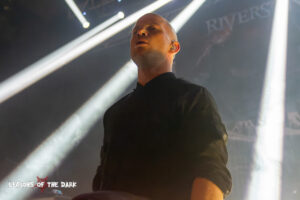 View our previous coverage of RIVERS OF NIHIL here: https://legionsofthedark.com/2021/11/05/rivers-of-nihil-live-photos-from-the-palladium-10-8-21/
Preview and purchase The Work at: metalblade.com/riversofnihil
http://www.facebook.com/riversofnihil
http://twitter.com/riversofnihil
http://www.youtube.com/Riversofnihilpa
http://www.facebook.com/metalbladerecords
http://www.instagram.com/metalbladerecords