Ukrainian blackened death/doom masters 1914 came at us with a vengeance on October 22, 2021, with Where Fear and Weapons Meet.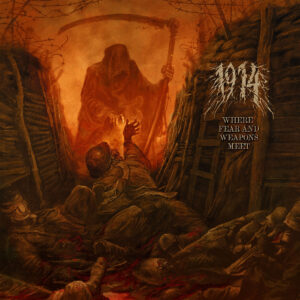 Sticking with their lyric theme of World War 1 (hence their name), 1914 has once again laid a heavy metal history lesson on us that won't soon be forgotten. If you're expecting something akin to Sabaton (whom I absolutely love), you're in for a shocking surprise, because the two bands couldn't be further apart in metal sub-genres. Their splicing of black, death, and doom elements throughout the entire record is something that they've grown exceptionally good at and makes their music unique enough to stand out from a lot of others. I stumbled across 1914 last year, as I fell down a music discovery rabbit hole, and I was immediately drawn in not only by their exceptional music but also their lyrical content. I've long been a fan of history, especially surrounding war and conflict, so their lyrical concepts grabbed my attention right away.
The first track "War In" sets the stage with a song from (I believe) the WWI recordings archive. From there, all hell is unleashed upon our eardrums with the first song FN .380 ACP#19074. This track title garners its name from the pistol that Gavrilo Princip assassinated Archduke Franz Ferdinand with, an action that set forth a cascade of events that eventually led to WWI. From blasting riffs and drums and the dramatic orchestration that's laid within it, they've created a feeling of impending doom and haunting tension.
The song Coward makes for a fantastic interlude, performed by Sasha Boole (who was a part of Behemoth's Nergal's side project Me And That Man.
…And a Cross Now Marks His Place brings forth their doom elements in force. Sung by Nick Holmes (Very reminiscent of old Paradise Lost likely for that reason.)
Overall, this album is an excellent listen as it journeys through numerous events of WWI on the European Front.
This is, without question a solid 8.5/10
Absolutely worth the time to sit down and listen through at least once. Since it's release, I find myself going back to listen to it regularly, only to discover new elements that I missed on a previous listen!
Track Listing
War In
FN .380 ACP#19074
Vimy Ridge (In Memory of Filip Konowal)
Pillars of Fire (The Battle of Messines)
Don't Tread on Me (Harlem Hellfighters)
Coward (feat. Sasha Boole)
…And a Cross Now Marks His Place (feat. Nick Holmes)
Corps d'autos-canons-mitrailleuses (A.C.M.)
Mitt Gott fur König und Vaterland
The Green Fields of France
War Out
Available now on Napalm Records worldwide! Buy Now: US/Canada | Worldwide
Links:
Facebook
Instagram
Spotify
Bandcamp
Napalm Records – Label Site – 1914 Page on Napalm Records
Napalm Records – Store (World)
Napalm Records – Store (USA/Canada)