Seven Spires Release New Single – Gods of Debauchery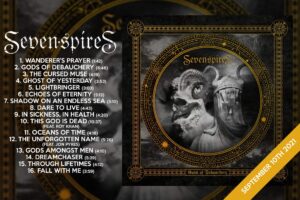 Seven Spires release new single! The symphonic metal act hailing from Massachusetts having officially announced their upcoming 3rd album "Gods of Debauchery" recently. Along with the album announcement, they've already graced us with two singles so far "This God is Dead" and "The Cursed Muse". Their latest single, the title track "Gods of Debauchery" was released today, along with an awesome music video.
Just over a year has passed since they released "Emerald Seas" (which happened to be my one of my favorite albums of 2020 according to Spotify, and "Unmapped Darkness" being my #1 song for last year), and the excitement of a new album from them is almost at a frenzy right now. Ever since I saw them years ago open for one of the local dates on Evergrey's US tour (in support of "Storm Within"), I've been a huge fan.
Their new album "Gods of Debauchery" will be out September 10, 2021 on Frontiers Music Srl. Look for more news on this album in the near future.
Album preorders are available here through the Seven Spires official website
Meanwhile, check out the new single & video: "Gods of Debauchery" which is the 3rd single released from their upcoming album with the same name. Check out the new video:
Listen to "The Cursed Muse" on Spotify:
Listen to "This God is Dead" on Spotify:
Seven Spires Online: