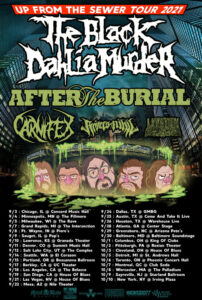 The Black Dahlia Murder are set to hit the road this fall with After The Burial, Carnifex, and Rivers of Nihil by their side. This return to the fray comes in with both guns blazing, given the lineup of bands on the bill. The announcement was one of the first that I saw this year, and was met with a great deal of skepticism from everyone. The resonating words in my head were:
"Is this real?
"How long before this tour gets cancelled?"
"I'm sure someone will come out and say that this was just speculation or a dream lineup."
Then as time went on further, the announcement stuck and there seemed to be a growing buzz around it. Almost immediately, I stopped and said to myself:
"Are we finally seeing the light at the end of a VERY dark tunnel?"
Well, sure as shit, the tour name, dates, and lineup have stuck. This looks like it could be the end of the dead live scene. I, for one, welcome the rebirth of the live music! The Black Dahlia Murder are a standout act, amongst a long list of run-of-the-mill bands that really sound like a death metal band that was run through a copy machine.
Up From The Sewer Tour 2021 – Dates:
9/3 – Chicago, IL Concord Music Hall
9/4 – Minneapolis, MN The Fillmore
9/5 – Milwaukee, WI The Rave
9/7 – Grand Rapids, MI Intersection
9/8 – Fort Wayne, IN Piere's
9/9 – Sauget, IL Pops
9/10 – Lawrence, KS Granada Theater
9/11 – Denver, CO Summit Music Hall
9/12 – Salt Lake City, UT The Complex
9/14 – Seattle, WA El Corazon
9/15 – Portland, OR Bossanova Ballroom
9/17 – Berkeley, CA UC Theater
9/18 – Los Angeles, CA The Belasco
9/19 – San Diego, CA House of Blues
9/21 – Las Vegas, NV House of Blues
9/22 – Mesa, AZ Nile Theater
9/24 – Dallas, TX GMBG
9/25 – Austin, TX Come and Take It Live
9/26 – Houston, TX Warehouse Live
9/28 – Atlanta, GA Center Stage
9/29 – Greensboro, NC Arizona Petes
9/30 – Baltimore, MD Baltimore Soundstage
10/1 – Columbus, OH King of Clubs
10/2 – Pittsburgh, PA Roxian Theater
10/3 – Cleveland, OH House of Blues
10/5 – Detroit, MI St Andrews Hall
10/6 – Toronto, ON Phoenix Concert Theater
10/7 – Montreal, QC Club Soda
10/8 – Worcester, MA The Palladium
10/9 – Sayreville, NJ Starland Ballroom
10/10 – New York, NY Irving Plaza
Tickets are on sale now, get yours here!
Here's my coverage of The Black Dahlia Murder on their 2019 tour in support of Meshuggah