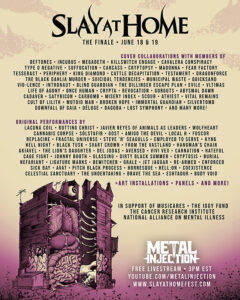 Slay At Home Festival, the first of its kind virtual music festival organized by Frank Godla of Metal Injection, is celebrating its one year anniversary with the announcement of a grand finale. The fully stacked event will air this Friday and Saturday (June 18 & 19th) with music beginning at 12PM PST//3PM EST both days and panel discussions beforehand. The free virtual event will fundraise in support of 4 great charity organizations; Musicares, The Iggy Fund, Cancer Research Institute, and National Alliance On Mental Illness. Info on these four charities can be found at the Slay At Home Festival website here.
Following the success of the first Slay At Home festival in the early stages of the pandemic, it was soon launched into a monthly series that has now collectively received millions of views, and over $200,000 in donations to various charities throughout the year.
The completely free event will be live-streamed via the Metal Injection YouTube page, and can be found directly at the links below.
Friday – June 18th
–"Monetizing Metal" Panel (11AM PST//2PM EST): youtu.be/Jv_Ec1oekMc
–Slay At Home The Finale Day One (12PM PST//3PM EST): youtu.be/5f2zUl4WzZY
Saturday – June 19th
–"No Longer A Boys' Club" Panel (10AM PST//1PM EST): youtu.be/2SfBBXPCp-A
–"The Future Of Touring In Post-Pandemic" Panel (11AM PST//2PM EST): youtu.be/xhI3yKZzg9Q
–Slay At Home The Finale Day Two (12PM PST//3PM EST): youtu.be/MO5G1Fjaem8